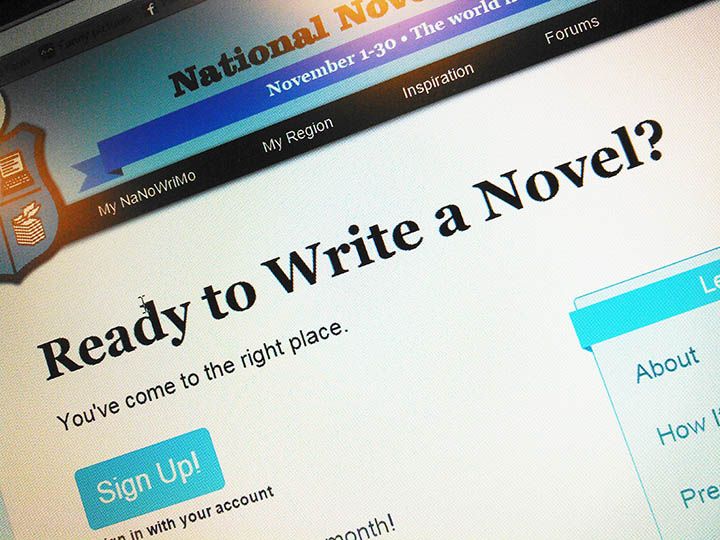 National Novel Writing Month (NaNoWriMo) is upon us. By this time you're either in the weeds or thinking about jumping into them. If you're debating getting started, here are three really great reasons to write your novel in November—and one reason not to.
1. One of the best reasons to write your novel during the month of November is that the program created by NaNoWriMo.org is easy to follow and relatively easy to succeed at. If you've been watching the calendar and preparing to kick your keyboard's butt during November, you've hopefully prepared to be diligent, confident, and focused. Write on!
2. NaNoWriMo gives you the chance to get into the writing groove and establish a routine that you can carry on after you've completed your 50,000 word manuscript. When you do something thirty or more times, it because a habit. Blocking out time every day during NaNoWriMo helps you develop the discipline to stick to it and complete your novel as committed. (Need a little help to get over writer's block? Here's a post to help you melt it away: http://bit.ly/1yYJws2.)
3. Another great reason to NaNoWriMo is that November is perfectly poised to help you kick-start your publishing journey in 2015. During the Thanksgiving holiday weekend, when you're likely to be visiting with loved ones, you'll be able to discuss your book with your greatest supporters: your friends and family. And the calendar provides you a busy month of holiday parties, get-togethers, and festivities to help you either decompress from the whirlwind that is NaNoWriMo as you share more about your project with others. You'll be ready to consider your publishing options with greatest confidence in January.
When should you refrain from NaNoWriMo-ing?
1. If you haven't adequately prepared and are not able to commit the necessary time to your NaNoWriMo project, you probably shouldn't jump into the fray. Like anything that's worthwhile, a writer's preparation takes commitment and careful preparation. If failing is likely to cause you and your motivation more damage than good, wait to start your project at another time. Some authors work well within time constraints. Others do not. If you don't thrive on a challenge or find motivation from deadlines, it's probably best to choose your own time frame and work at your own pace.
Whether you NaNoWriMo or go at your own pace, catch the enthusiasm bug and get to work on your book. Now is a very exciting time for writers. There are so many publishing options available to you.
To learn more about all of your publishing options, check out Redbrush's complimentary publishing guide, "The Compass" (http://bit.ly/1u0w9HN). Keep writing and creating! It's the spice of life!