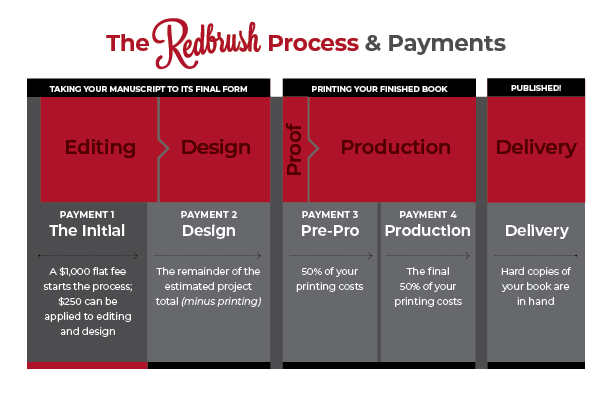 The Redbrush Team has come up with a unique payment system that accounts for all of the book publishing process from initial guidance through the delivery of your final product to your door!
This system allows for the most accurate project cost you can be given at the outset of the project. Based on your personal goals, we can account for specialized editing, illustration/design, and printing costs.
---
---
Pricing By Service
Appraisal Services
Both Editorial & Marketing Appraisals are complimentary when preceded by a basic discovery conversation.
Editing Services - by the word
Level 1 Copy Edit - $0.018/word
A Level 1 Copy Edit checks for the following:
Punctuation
Grammar
Spelling
Consistency in verb tense
Consistency in pronoun use
Level 2 Line Edit - $0.025/word
A Level 2 Line Edit involves the editor making changes to sentence or paragraph structure, as well as substituting words or sentences where necessary. This level of editing strengthens the author's work and does not take away from their voice, tone, or style.
Level 3 Developmental Edit - $0.025/word - $0.037/word
A Level 3 Developmental Edit involves the editor reworking much of the author's manuscript. This could mean trimming extraneous sections to clarify a story arc, adding new research, etc. Because so much of the manuscript changes with a Level 3 Developmental Edit, it must be followed by either a Level 1 Copy Edit or a Level 2 Line Edit.
Design Services - $150.00/hour
Cover Design - 2-4 or more hours*
Interior Design - 2-4 or more hours*
eBook Conversion & Design - 2-3 hours*
Graphic File Editing (color correction, file manipulation, etc.) - $150.00/hour
Printing Services*
Printing costs are first estimated for a proposal based on the specifications of the print job. These specifications include but are not limited to:
Page count - the number of pages bound between the covers of your book
Trim size - the dimensions of your book (width x height)
Book binding - perfect bound paperback, adhesive casebound hardcover, Smyth Sewn hardcover binding
Cover stock/material - paperback cardstock, casebound paper stock, dust jacket stock
Cover coating - matte, soft-touch, light gloss, heavy gloss, UV gloss, spot varnish
Binding extras - endpapers, layflat binding, hardcover boards, debossing, foil stamping, end threads, dies for spot varnish
Interior stock/material - bond, matte, or coated interior papers
Inks - one-color, two-color, full-color
* Bear in mind that we do our best to correctly estimate the time necessary to complete steps of the publishing process. Some steps of the process are more difficult than others to estimate. Authors have the option to affect change during the process, too, asking for additional Design concepts, adjustments, and graphical editing, for example.